Even if it doesn't appear from the outside, these new speakers are very different from other existing systems.
Here the woofer is essentially coupled to a short acoustic line and doesn't work with the box volume. This shortened line, which is not a quarter-wave line, has a slot for tuning and acoustic matching to low frequencies.
This arrangement has several advantages :
There is no more boomy sound, transients in the bass are perfectly reproduced without sustain.
The mouth of the line has a large area and the acoustic impedance matching is optimal. This gives excellent bass performance despite small dimensions.
Because the line is very short, the pipe sound of quarter-wave speakers is avoided. It sound nearly like open baffle type. Residual resonances are pushed back above 450Hz and are easily absorbed by an acoustic trap included into the central guide of the line.
Sectional view of an enclosure according to the Solen « Hybrid Enclosed Line »
Electroacoustic modelling of the HEL concept
The HEL simplified equivalent circuit is described on the right.
The slot between line and driver define the HEL core. This core makes the difference with vented box (bass reflex).
A comparative simulation of the HEL model with the vented box was conducted using the values of a Helios with 6.5 ' '  Scanspeak driver.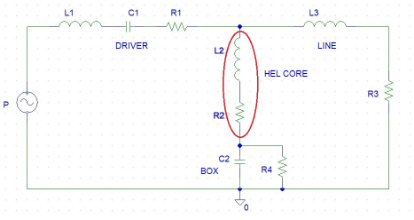 HEL transient response :
Simulation at 100Hz burst : Output pressure vs input signal

HEL, Line output acoustic pressure   /  Vented box, Port acoustic pressure
With HEL system, pressure tansients are perfectly reproduced while classical vented box shows poor rise time in the bass.